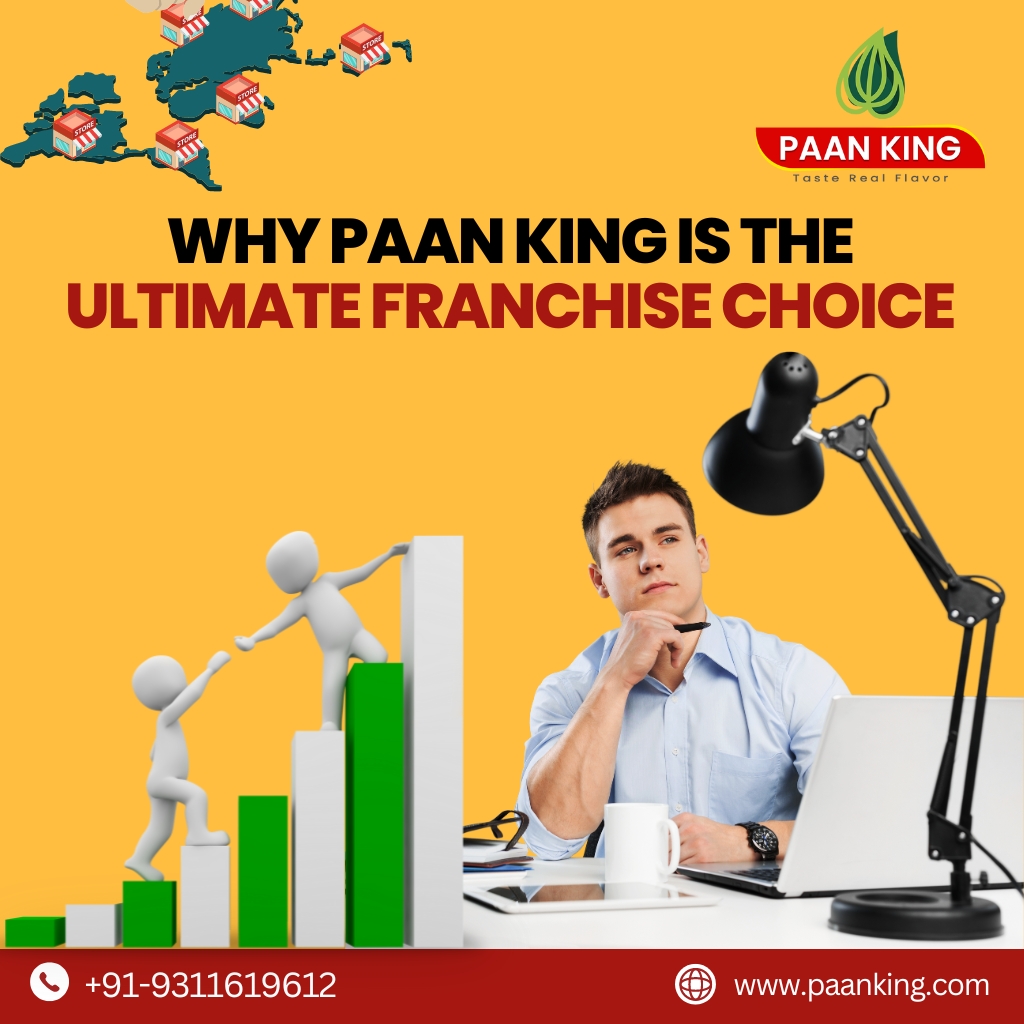 In the realm of franchising, choosing the right product to offer can make all the difference between average success and unparalleled triumph. Among the myriad options available, one stands out as a beacon of innovation and tradition—Paan King. With a commitment to excellence and an unwavering dedication to the art of paan-making, Paan King has emerged as the ultimate paan shop franchise choice.
Offering consumers wholesome and delicious paans is our company's credo. All sorts of paans are prepared by skilled workers knowledgeable about choosing the right components to give them their ideal flavor. People return to us time and time again because of our gentle scent and freshness. We ensure everything is delicious, packaged safely, and delivered on time.
A Perfect Blend of Heritage and Innovation
At the core of Paan King's allure is its artful fusion of heritage and innovation. Paan, a traditional Indian concoction symbolizing celebration and cultural richness, is elevated to new heights by Paan King's innovative approach. With an array of creative paan varieties that cater to modern tastes while honoring tradition, Paan King offers a product that resonates with a diverse consumer base.
Paan King's commitment to preserving the essence of paan-making while infusing modern flavors and techniques ensures franchisees tap into a market that values heritage and innovation.
Uncompromising Quality and Hygiene
When it comes to consumables, quality and hygiene are non-negotiable. Paan King recognizes this fundamental truth and places it at the heart of its offerings. Each paan crafted under the Paan King banner is a masterpiece, meticulously prepared using the finest ingredients. This dedication to quality ensures that customers experience the same impeccable taste and consistency across all Paan King outlets.
Furthermore, Paan King maintains stringent hygiene standards, conforming to the highest industry regulations. Franchisees can rest assured that they offer a product that not only delights the taste buds but also meets the most rigorous safety standards.
Versatility in Franchise Models
Franchising success thrives on adaptability and variety. Paan King understands that each location and market have their own unique dynamics. Therefore, they offer a range of franchise models to cater to different entrepreneurial aspirations and market requirements.
Paan King offers various options, from kiosks that bring flavour to high-footfall areas to elegant sit-down outlets, creating a paan experience akin to fine dining. This versatility empowers franchisees to choose a model that aligns with their vision and target audience.
Innovative Marketing Strategies
A franchise's growth potential is intricately tied to its ability to attract and retain customers. Paan King, the Top paan franchise in India, shines with innovative marketing strategies that marry tradition with modernity. Leveraging the power of social media, experiential marketing, and collaborations, Paan King ensures that its franchisees enjoy maximum visibility and customer engagement.
Moreover, Paan King's strong online presence through paanking.com creates a seamless connection between the brand, franchisees, and customers, fostering a sense of community and loyalty.
Comprehensive Support System
Franchisees require a robust support system to navigate the intricate nuances of business ownership. Paan King goes above and beyond to provide comprehensive support encompassing training, operational guidance, marketing assistance, and ongoing mentorship.
From imparting the art of crafting delectable plans to sharing insights on inventory management and customer service, Paan King equips its franchisees with the tools they need to thrive in a competitive market.
Go for Franchises or Ownership:
For someone starting new in the business industry, owning a Paan Franchise is the best choice; that will take low investment cost and a relatively high profit margin. Pan King offers the Best paan franchise model for you to start and grow your business. Pan King Franchise is one of the best names in the whole nation. With a brand reputation, the business tends to have a devoted customer base and heavy footfall in the shop.
Conclusion
Embark on a franchise journey steeped in heritage, innovation, and unparalleled support. Choose Paan King and experience the sweet taste of success on Paan King—the destination that encapsulates the essence of this delightful endeavour. As a franchisee, you're not just joining a business; you're becoming a part of a legacy that brings joy to palates and hearts alike.
Paanking also provides the Best Paan Franchise Opportunities in India for entrepreneurs such as Pan King to set up their businesses and to be a part of the authorized outlet of Paan King. To learn more about our products or the Paan King Franchise, visit www.paanking.com