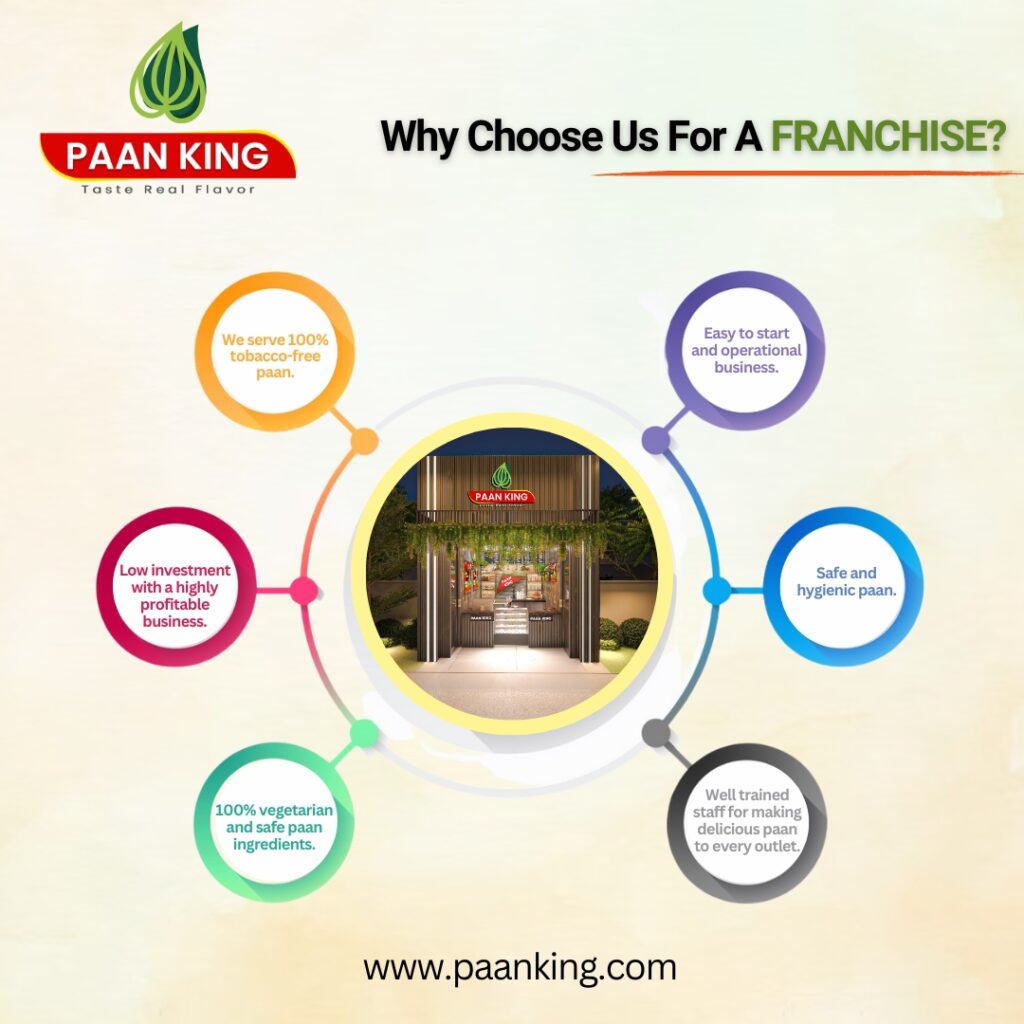 Banaras is famous for many things, and one of the most famous things about Banaras is Banarsi paan. But the flavour and taste of Banarsi paan are not available at every place, and not every person can go to Banaras to eat Banarsi paan. But in India, most places have paan shops but don't have the exact flavour and aroma of Banarsi paan.
We got the idea of the Paan King. After doing long research, we started Paan King. We want every person to taste the tradition of India in paan. We are the franchise modality. We want every person to taste and feel Banarsi paan. We make 100% tobacco-free paan and provide a complete Banarsi family paan café.
Reasons why entrepreneurs choose the Banarsi Paan franchise:


Regular cash income source: The paan business is very profitable, as paan is loved by Indians. They have some sentiments and feelings attached to paan.
Staff backup and paan-flavor material supply: If you invest in a paan franchise, you will get regular staff backup and material supply.
Training and innovation support: You will get every kind of support from the business if you invest in a franchise, from innovation to training. You do not have to start the business from scratch; you will have support for everything.
Regular quality improvement: Regular quality improvement checks are done by the paan king to ensure the best quality products and services.
Paan is just not paan, but it is the love of paan lovers. That is the reason we started the paan franchise and we are successfully growing. Having vast experience and knowledge of great taste has helped us live up to the client's expectations. We are offering our delicacies of paan at all events and occasions. Our goal is to maintain the great taste and pure natural essence, which helps us make our name in India.
If you are an entrepreneur and want to start a business then our banarasi paan franchise is the best option for you. With this low-investment paan franchise, you can start an excellent business. Visit https://www.paanking.com