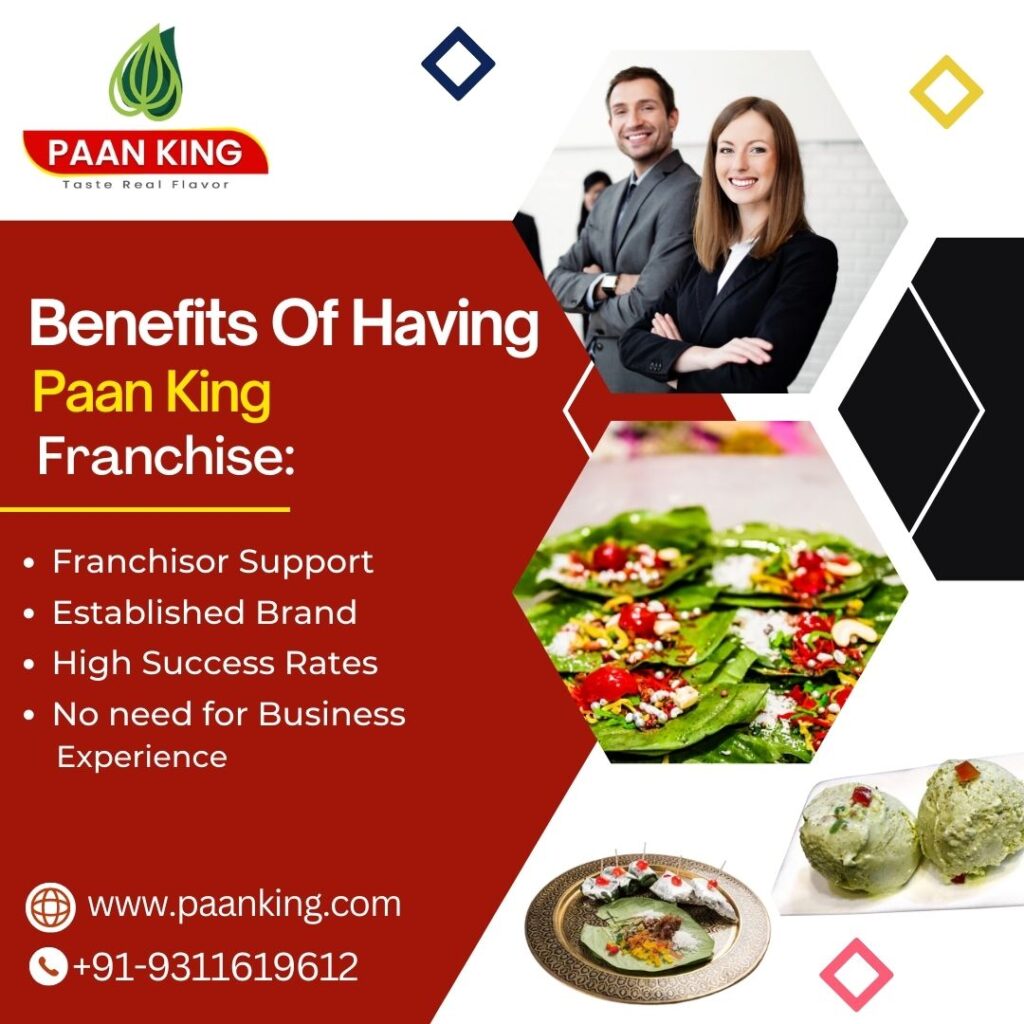 Paan is an enormous Indian confection dish. It is delicious and flavorful and also comes with many health benefits. If you are looking for a business startup at an adequate allowance then you can begin your own paan cafe business. Paan King Franchise is one of the best and trending franchises now in India. Paan King is an entirely family paan cafe, Paan King's paan is not just paan, it is the love of paan lover, and that's why you can move to a paan franchise.
Here we mention some Benefits Of Having a Paan King Franchise
Famous Paan Brand:
Paan King is very popular in the Paan market, and Paan King comes under the class of the highest brands. One of the tremendous benefits of franchising is that they have been creating a brand on a public belief that has appreciation among the consumers. Paan King is a profitable paan franchise model and your choice of going with them as a franchise will make you profitable and give a great boost to your pay level.


Franchise Assistance: Paan King will deliver full assistance and are not like other companies that will not help you after you have paid for the franchise. In truth, after you have purchased the Paan King franchise, they will be delivering assistance to you and your employment. Thus, you can be stress-free in worries about the management of your paan cafe.


High Rates of Success: It is normal to get anxious over the chance of finding success in your new business. Accordingly, Paan King provides a lot of data for research and confirms the results with occurring franchisees before pursuing your final option.


Staff Support: Paan King franchise model delivers sufficient staff support which will help in making flavored paan dishes and other beverages. Paan King will have different teams for every type of motive. Paan King has also provided staff backup assistance.


New Flavors Launching & Training Support: Paan King is famous for its new flavored and unique paan dishes that make them extraordinary. Paan King offers more than 100 varieties of flavored paan dishes and 25+ mukhwas variations. Its mouth-watering Paan dishes take full appreciation for well-being and deliver you with tobacco-free paan dishes and other snacks.

These are the reasons you can choose the Paan King franchise and launch a new venture. Make your dream business true and move forward with Paan King's Franchise opportunities. Visit the website for the franchise procedure and know more in detail: https://paanking.com/