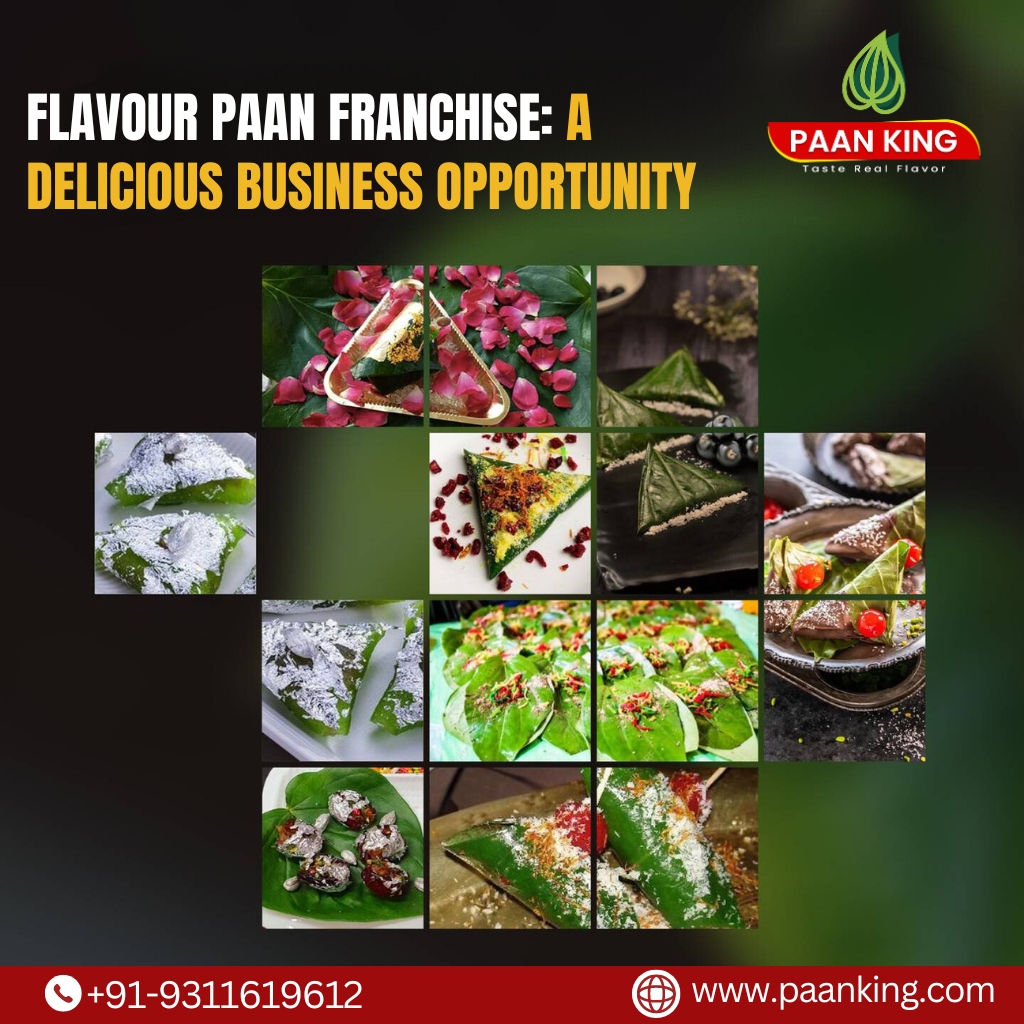 Welcome to the flavorful world of Paan King! Are you ready to embark on a truly delicious business opportunity? In this blog, we invite you to explore the enticing world of paan and discover the exciting potential of owning a Paan King franchise. With a passion for culinary delights and a drive for entrepreneurship, this is the perfect chance to indulge your taste buds and build a thriving business. Get ready to tantalize your senses as we take you on a journey through the mouthwatering flavors and endless possibilities that await you with Paan King.
A Rich Tradition of Paan:
Paan holds a special place in Indian culture, deeply rooted in tradition and celebration. It is a betel leaf preparation that offers a delightful mix of flavors, spices, and sweet fillings. Owning a Paan King franchise allows you to become a part of this rich heritage, sharing the joy of paan with customers and immersing yourself in a time-honored tradition of hospitality.
Diverse Flavors and Combinations:
One of the most exciting aspects of joining the Paan King franchise is the opportunity to explore a diverse range of flavors and combinations. From classic paan recipes to innovative twists, the possibilities are endless. You can offer traditional flavors like meetha paan and saada paan, or push the boundaries with creative combinations like chocolate paan, fruit-flavored paan, and more! The ability to customize paan experiences will keep customers coming back for more and keep your business thriving.
Creating a Unique Dining Experience:
Owning a Paan King franchise offers more than just selling a product; it provides a unique dining experience. Paan is often enjoyed as a post-meal treat or during social gatherings. By creating a warm and inviting ambiance in your franchise outlet, you can elevate the paan experience for customers. Think beautifully decorated spaces with comfortable seating arrangements and a friendly, knowledgeable staff that enhances the overall enjoyment of savoring paan.
Comprehensive Training and Ongoing Support:
When you join the Paan King franchise, you're not alone on your entrepreneurial journey. We provide comprehensive training and ongoing support to ensure your success. You'll learn the art of crafting the perfect paan, understand the intricacies of running the business, and receive guidance on marketing strategies, sourcing quality ingredients, and maintaining consistency in taste and presentation. The dedicated team at Paan King will be there to assist you every step of the way.
Brand Reputation and Recognition:
By joining the Paan King franchise, you benefit from the established brand reputation and recognition that comes with it. Paan King has earned a reputation for excellence in the industry, known for its high-quality ingredients, authentic flavors, and exceptional customer service. As a franchise owner, you gain instant credibility and the trust of customers who recognize the Paan King name.
At Paan King, we are passionate about offering a flavorful business opportunity through our franchise model. When you partner with us, you become part of the Paan King family, gaining access to our rich tradition of paan, diverse flavor options, and a strong support system. Together, we can build a thriving business that delights customers with our mouthwatering paan creations.
So, if you're ready to embark on a delicious journey and be a part of a renowned brand in the paan industry, join us at Paan King. Discover the joy of owning a Paan King franchise and make your mark in the world of paan. Visit our website at https://paanking.com/ to explore franchise opportunities and take the first step toward a flavorful and successful future with Paan King.