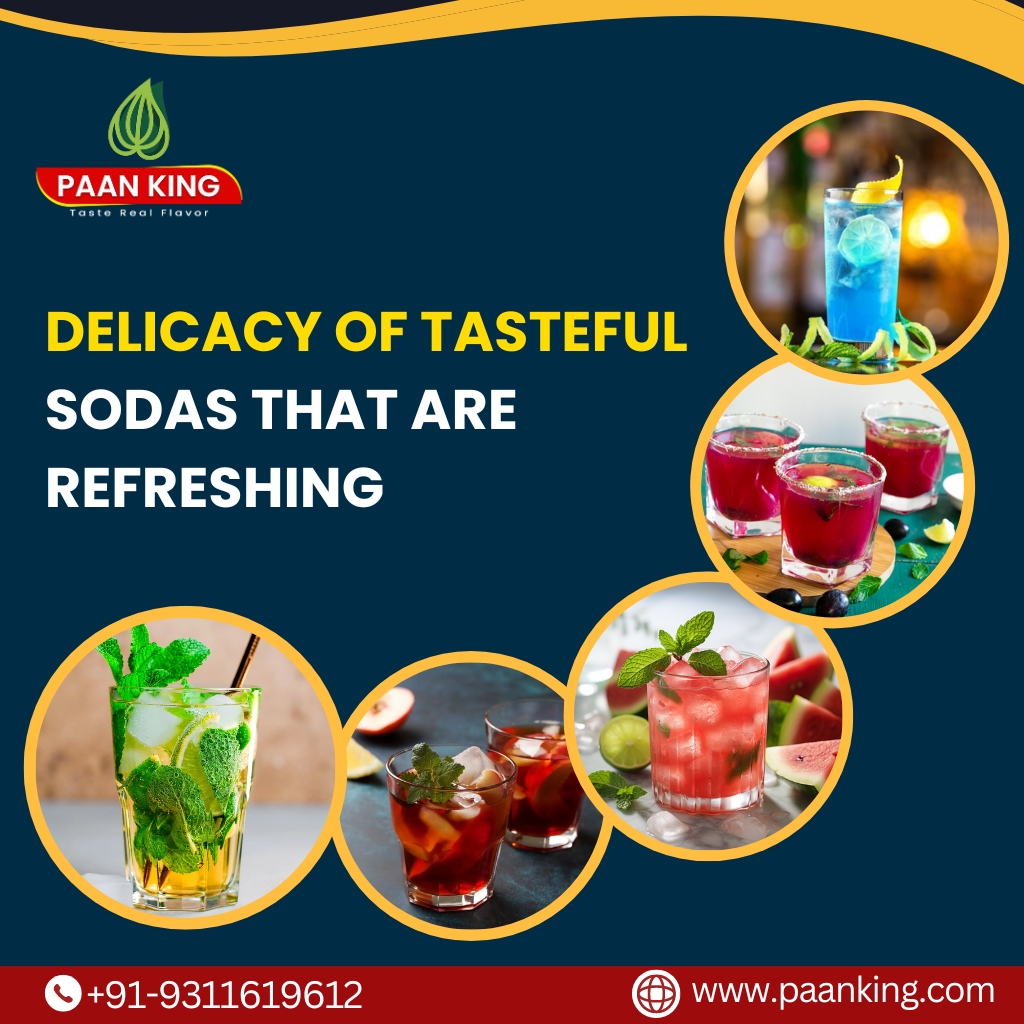 No one can deny the fact that as refreshments for any type of occasion, Soda has been taking over for a few years now. With the rising popularity of these flavored seltzers, we have a vast variety too from now. You can find these refreshments anywhere yet they would taste so different, it's all about the ingredients and skills of the person making them. At Paan King, we not only serve the delicacy of authentic Paan treats but also the refreshing cold drink or you can say Soda. Every sip of these tasty Sodas is as delicious and refreshing as our flavorful Paans. In this blog, we will be discussing some of the refreshments offered at Paan King.
1. Mint Mojito
When it comes to classic soda drinks and mojito, we all know the name of Mint Mojito. The refreshment of one sip of this soda is enough for you to beat that lazy, dull mood. Paan King offers Mint Mojito that's made with authentic ingredients including mint leaves and premium soda.
2. Peach Tea
Peaches are something that everyone from young to older loves to have. The sweetness with a tangy touch of peach itself is refreshing now add some tea leaves and ice with them. Just imagining that is mouth-watering, and Peach Tea at Paan King is the top-notch quality. We serve our drinks made with the finest material.
3. Watermelon Mojito
The best thing about summer, we all know and agree that it is watermelon because it helps in keeping our body hydrated in a tasty way. We make a delicious, refreshing, and energizing mojito with natural watermelon and soda topping with mint leaves and ice. Having it after your office, school, or after any activity Watermelon Mojito would just help you in refreshing your mind and body.
4. Kala Khatta
Bringing back the nostalgia of the after-school treat in summer, we all had to refresh ourselves and the tangy taste is what kept us wanting it back. For you, Paan King has made this Kala Khatta Mojito. It's nostalgic for every adult and something tangy and tasty for younger ones.
5. Blue Curacao
Blue Curacao also known as Blue Mojito might look beautiful ocean blue yet it would surprise you with that tangy orange taste. It tastes like that because of the addition of blue curacao which makes the ocean blue look and orange taste. Paan King uses the finest most delicate ingredient in the making of soda to make it taste the best you can ever have.
Conclusion
At Paan King, we serve you sodas that are refreshing and sweet yet tangy. And not only these refreshing sodas or mojitos we serve you with shakes that are just unique you would have never tasted before. Each Paan King Franchise all over India presents you with such innovative and unique treats. We are here to provide you with the delicacy of Paans, sodas, and shakes that are made just to satisfy your sweet tooth and love for tangy things. To know more about our products or Paan King Franchise then visit www.paanking.com