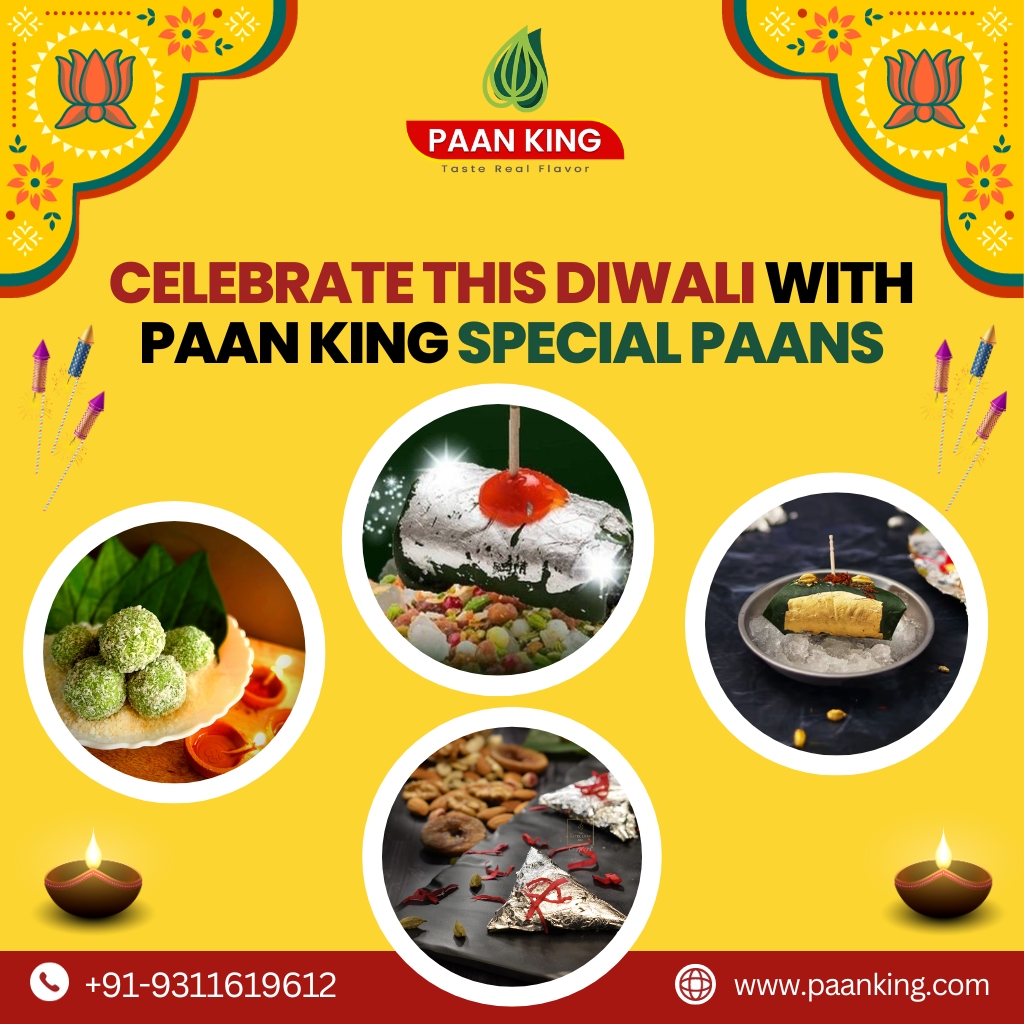 Diwali is a festival of lights, sweets, togetherness, and indulgence. It is during these festivals that we celebrate with family, friends, neighbors, etc., exchange gifts, and savor delicious treats. With sweets and snacks, every festival steals the spotlight, and Diwali is one of them. This Diwali, celebrate with your loved ones by adding unique sweets to Diwali celebrations. Paan King is here to make your Diwali celebration delightful with their special Diwali paans. In this blog, we'll explore some mouthwatering paan varieties that will make your celebrations memorable.
Gold Paan: Having a gold paan is the ideal way to celebrate the festival of wealth and prosperity. This opulent paan, adorned with edible gold leaves that shimmer and shine, is truly a class apart. With a hint of luxury, it's the ideal fusion of traditional paan ingredients like areca nuts, gulkand, and betel leaves. The Gold Paan is a wonderful conversation starter at family get-togethers and lends a touch of elegance to your Diwali celebrations.
Ladoo Paan: During Diwali, ladoo is a popular dessert. But did you know that you can get the taste of ladoo in a paan? Ladoo Paan is a delicious blend of traditional paan and the essence of your favorite dessert. With the sweetness of ladoo and the tanginess of other ingredients, this paan will take you back to your grandmother's delicious ladoos with its explosion of flavors. It's a tasty treat that is sure to satisfy your palate.
Coconut Paan: The traditional paan is given a tropical twist with coconut paan. A delightfully unique paan is made by blending freshly grated coconut, gulkand, and several spices. A veritable flavor blended from the marriage of the aromatic spices with the sweet and nutty coconut adds a twist to your palette. For those seeking a delectable yet lighter paan to savor during the festive season, this is the ideal paan.
Chocolate Dry Fruits Paan: The Chocolate Dry Fruits Paan is a dream come true delicacy for sweet tooth lovers. This paan has a lot of chocolate and dry fruits added to the traditional ingredients. This is a rich, decadent paan that combines the richness of chocolate with the goodness of traditional ingredients. It's a great option for people who would like a delightful dessert after a rich Diwali meal.
Rajwadi Paan: The Rajwadi Paan is the ideal option if you want to exude royalty. This paan is a delightful blend of paan leaves, gulkand, saffron strands, and silver varq, giving it an opulent and regal appearance. It's the best option to serve your guests and have a royal Diwali celebration. The classic paan is given a rich and fragrant twist by the flavors of saffron and gulkand.
Conclusion
Don't confine your Diwali celebrations to lights and sweets this year. Take your celebration to the next level with Paan King Special Paans. Not only do these paans entice your palate, but they also serve as great presents or distinctive accents to your Diwali celebrations. So why hold off? Discover the world of Paan King Special Paans and give your Diwali celebrations something special this year. For more visit our website!